The Lisa Lahey & Robert Kegan Immunity to Change Process: Exploring Higher Stages of Human Development
How do we transform? What are the obstacles to change? What will free up our potentials and talents? David Zeitler, the director of training for Mind's at Work, Robert Kegan and Lisa Lahey's change organization, unpacks this powerful process in dialogue with Amy Edelstein. This insightful discussion is part of the weekly salon series at the Waverly Street Reading Library in Philadelphia.
About David Zeitler:
David Zeitler uses mindfulness techniques to help people achieve lasting, positive change. The Immunity-to-Change method developed by Robert Kegan & Lisa Lahey form the cornerstone of his practice. Past experience that David brings into his practice include neuroscience, psychotherapy, and publishing. David is a former monk in the Shaolin Buddhist order. He holds an MBA in Leadership Development from John F. Kennedy University and an MA in East-West Psychology from California Institute of Integral Studies.
Audio for Talk (60 min):

Audio for Q&A (20 min):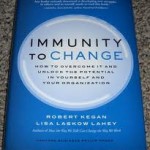 The Waverly Street Reading Library is a private, free reading library with a 3000-book collection specializing in world philosophy, spirituality & psychology. The Library was established to host conversations that matter in the same spirit of fellowship and purpose that lit up the early freedom founders of Philadelphia.
Interested in attended events like this? Sign up for our monthly newsletter here.
What do you think?